Cape Food & Wine's Sustainable Winelands Tour
Posted by Cindy on Tue November 7, 2023 in
Our Stories
.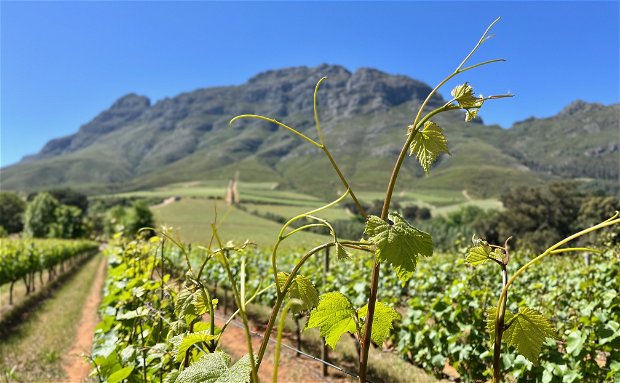 Something that goes hand in hand with our love for good food & wine is our passion for people and the environment. We endeavour to make responsible choices when creating itineraries for guests, and are mindful of where we eat and who we support. This Sustainable Wine Tour was crafted for those like-minded guests who take responsible traveling seriously.


During this one-day tour we will visit farms that practice sustainable farming methods and are involved in social equity or environmental conservation programs. Things we look for when selecting wineries:
• Fairtrade farms
• Biodynamic or organic farming
• BWI – Biodiversity & Wine Initiative
• Farms with social equity or conservation initiatives
• Diverse winemakers – women or people of colour
This is a unique wine experience that's bookable on request. Many of the wineries mentioned can only be booked with prior notice as they have limited availability. We will curate each Sustainable Winelands Tour from our preferred list of suppliers. Please note that specific wine farms mentioned are subject to availability.
Reyneke Wines – Reyneke Wines practices biodynamic farming methods and produces excellent organic and biodynamic wines. We will learn about their cornerstone project and how they empower their farm workers through housing ownership, education and retirement annuities. Join owner Johan or winemaker Nuschka on a walking vineyard tour to learn more about organic and biodynamic wine farming before you taste their excellent range of wines.
Avondale Wines – Avondale is a certified organic and biodynamic wine farm. Avondale is committed to providing fair and decent living and working conditions to enable their workers to enjoy healthy, balanced lives. They have a community centre, crèche and feeding scheme on the farm for the farm workers' children. Enjoy the beautiful views and lovely gardens while sipping on their excellent wines. For lunch, we recommend Faber @ Avondale – Faber is a contemporary farm-to-fork restaurant that approaches each ingredient with the utmost respect. Faber Food is handcrafted using the finest fresh and organic ingredients; creating wholesome, innovative dishes.
Bosman Family Wines – Bosman Farm is a Fairtrade certified wine farm. This 8th generation farm has been in family for more than 200 years. The joint venture between Bosman Family Vineyards and the Adama Workers Trust saw the formation of the biggest Black Economic Empowerment deal in the wine industry to date, with eligible workers receiving co-ownership of 430ha of prime farming land. The relationship between the family and their team is evident in the fact that many of the 260 full-time workers on the estate are 5th generation families that have a deep a passion for winemaking. With an ownership of a full 26% of the business, a solid skills transfer system and numerous social projects, the workers are invested in every aspect of Bosman Family Vineyards. Experience a cellar tour through the 260-year-old Bosman cellar before enjoying a tasting of their fantastic wines.
Vergelegen – This is no ordinary wine farm! Vergelegen is a proud supporter of Fairtrade. Fairtrade is focused on better rates for trade and healthy working conditions and fair price share for farmers and workers in developing countries. They are leaders in fighting climate change by reducing carbon emissions, reducing energy consumption and reusing and repurposing as much as they can in their daily operations. They are also committed to sustainable farming and conserving their land for future generations. You will learn more about Vergelegen's practises on their informative Environmental Tour. For lunch, we recommend Stables @ Vergelegen
Villiera Wines – "Villiera has always been keenly aware that sustainable agricultural production rests on the principle that the needs of today must be achieved without compromising the needs of the future. This philosophy has been fundamental in our approach to farming where we utilise natural resources responsibly with as little impact on the ecosystems as possible."
*Our all-time favourite bubbly at Earthstompers is Villiera's Tradition Brut.
Painted Wolf Wines – A producer of award-winning wines with the main focus on building a hopeful future for the endangered African Wild Dog. Painted Wolf Wines is a significant supporter of conservation and since their first vintage in 2007, they have donated over R3.4 million to the conservation of African Wild Dogs.
We look forward to hosting you for a tour! 
blog comments powered by

Disqus